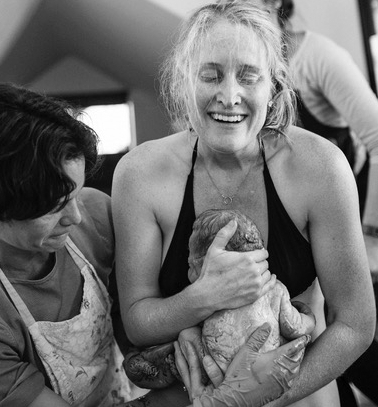 There is no need to disrupt the mother while providing close, quiet midwifery attendance.
Being a midwife for a family is making a commitment to be a team together through the journey, through pregnancy, labor, and into parenting.
During prenatal care, we speak in detail about the family's wishes and goals for the birth. We spend the pregnancy preparing body, mind, and spirit for the journey to come. When labor comes, we witness that wished-for dream birth happen in its full glory.
As a certified nurse midwife (CNM), a women's health nurse practitioner, and a registered nurse, I am a specialist in natural birth, natural well baby care, and well woman care.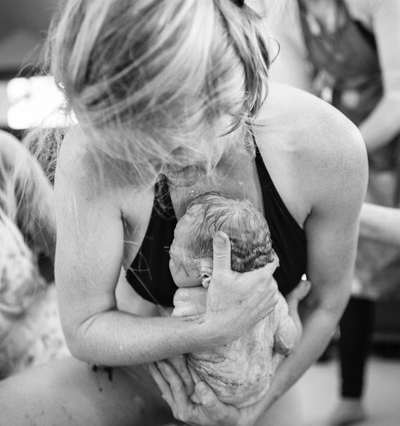 The moments and hours after birth are a time of joy, peace, and connection.
Twenty one years ago, I began my midwifery training. I caught my first babies in a birth center 19 years ago. I have attended births at home, in birth centers, and in hospitals. My midwifery style is quiet and hands-off, in labor; with close and attentive screening for the baby and mother's well-being. If hospital transport is needed, I am able to continue to be the provider for mother and baby. Prenatal care is focused on preparation and prevention through a holistic, natural approach.
Birth is a spiritual passage full of love and challenge, for the entire family. As midwives, we are the calm presence and skilled guide that allows each family member to relax, feel confident, and experience the love and beauty of the event. Urgent situations are the same: action is taken quietly, with calm and skill, by an experienced midwife.
I see my job as helping dreams come true.
My out of hospital experience includes an apprenticeship at the Farm Midwifery Center in Tennessee, a water birth practice in Xalapa, Mexico; and assisting urban midwives with busy home birth practices; and in a birth center in Alaska.
I became a Registered Nurse and then received a Master's of Science in Nursing at UCSF, becoming a Women's Health NP and Certified Nurse Midwife. Centering Pregnancy (TM), a wonderful group prenatal model, was part of my training. I co-led Centering prenatal groups at Mission Neighborhood Health Center, and the Homeless Prenatal Program.
As mother of two beautiful children, I enjoy housecleaning, cooking, swimming, and exploring the outdoors with my children.
"With Jamie, we felt trust, safety, and confidence. Her care before, during and after our home birth went beyond our expectations."
- Alyssa & Lenny